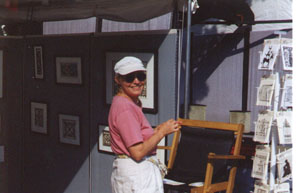 From 1988 to 2004, I traveled all over the country displaying my work at both indoor and outdoor shows.
In 2004 I stopped doing shows. I have been very fortunate in the responses I have gotten about my work, and as a consequence, my work has taken a new direction. There are people who are private collectors, and owned through corporate purchases. I sell my work through galleries and from my web site.
I am, again, doing commissions, with emphasis on work that is exciting to me. This is a very important factor in being a fulfilled artist.
You can now buy my work, either here, through my web site, or from galleries and exhibitions.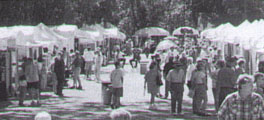 booth shots
The Process
First I do a freehand drawing of the gate I want to cut. It may be a noteworthy or historic gate, a commission, or one that is just in my head.
Then I refine that drawing to something I feel I can cut, trying always to challenge my abilities. I drop some of the detail that may be confusing or impossible to cut, and almost always add a signature detail of my own.
After I finish the cutting, I mount it on a clear acrylic sheet, sometimes adding a small accent (such as a watercolor, a 14K gold twisted wire, or a freshwater pearl). Some of my work has more than one layer. Each of these separate pieces needs to be aligned with the others.
After the drawing is to my liking, I put it on the white side of the silhouette paper. I used to trace my drawings to the paper, but found I bruised it. Now I have my drawings printed to the white side
I place the paper on a self healing rotary mat, and cut with a surgical scalpel and #11 blade. I don't worry about "staying in the lines" since this is my own drawing and another chance to add more detail; thus each piece is unique and individually cut.

After mounting, I use spacers to separate the layers, which gives it a three dimensional effect.
Finally I mat and frame it, echoing the theme of the cutting.
The trick to making really wonderful paper cuttings is meticulous attention to the smallest detail.